Commercial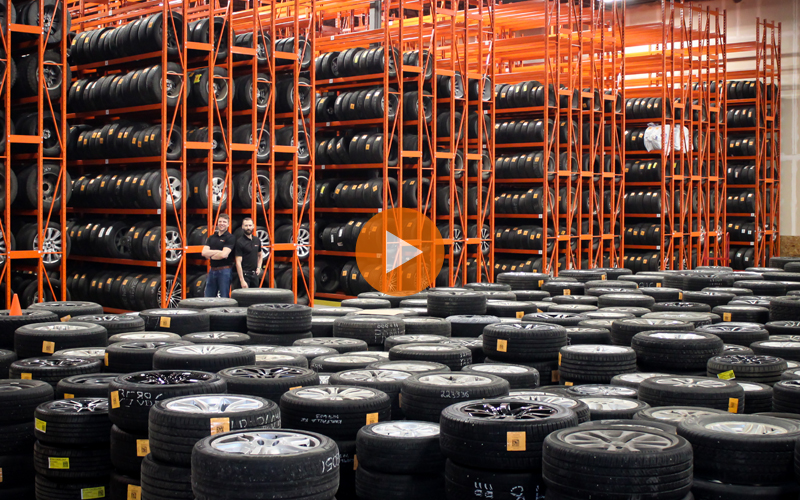 Service centres, dealerships & shop partnerships
Running a successful car dealership, tire servicing centre or automotive repair shop?
Tire Chalet works with some of the most well known service centres, dealerships and shops in the Calgary, Edmonton and Winnipeg surrounding areas.
Part of your regular maintenance is helping customers with a new set of winter tires or summer tires. You pull off the old ones and put on the new. What do you do with the old ones? Package those dirty things up and send them back with the customer? Or, are you storing them in your facility somewhere, taking up unnecessary space that could be better used for things like merchandise? Bulky, round tires can be a nasty tripping hazard for your staff, too.
Want to clear those tires out of the shop, or adding an extra layer of value for your customers at NO extra charge to you?
Benefits for you and your customers
Customer Retention
Providing tire storage for your customers ensures that they will be back twice a year for you to switch over winter or seasonal tires for the life of their car.
Added Sales and Service Opportunities
Once your customer's car is on the hoist to change their tires over, there is ample service opportunities. Additionally, you will have plenty of tire sales opportunities. Our custom tire report documents the tread level and condition of each of your customer's tires which may help you facilitate tire sales.
Zero Investment
Storing your customers' tires with Tire Chalet requires no additional financial investment on your part. Within minutes we set up your individual dealer account on our dedicated web site, free of charge.
Leave the Administration Tasks To Us
You only need to record your customers' information once and request a pickup or delivery. Tire Chalet will take it from there, handling everything from barcoding, inventory tracking, tire reporting, delivery and washing your customers' tires and rims.
Maximize Space
Tire storage can be difficult simply because it requires a large amount of surface space. Maximize your shop's space by letting us handle your customers' tire storage.
Added Service for Customer Satisfaction
If your customer takes you up on the opportunity to store their tires with you, then evidently tire storage was a problem for them which you are providing a solution to. Satisfy your customers' needs by offering tire storage through Tire Chalet.
Personalized Service
Tire Chalet provides the best personalized service with 24 hour pickup and delivery while still providing better prices than any of the giant tire storage corporations.
Simple 6 Step Process to Working with Tire Chalet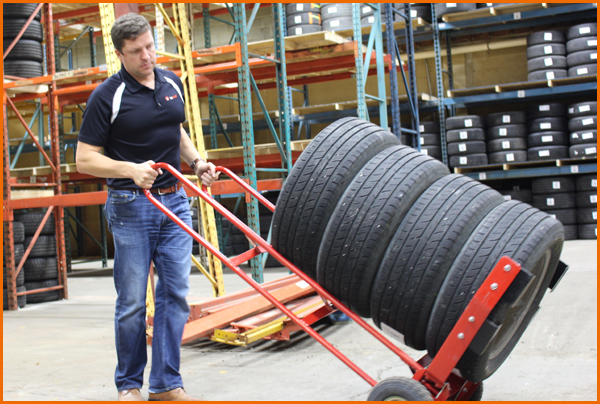 Step 1: Call Tire Chalet at 1-855-487-TIRE - we'll go over everything with you and get your online account set up!
Step 2: You choose: Integrate your DMS with our software and make one daily upload allowing us to see any scheduled appointments involving your tire storage op-code, or simply login to your online account and request pickups and deliveries manually.
Step 3: Our Tire Chalet team will arrive on time, assess your tires, take photos, and roll them into the truck. After that, simply use the features in step 2 to get in touch or check out your inventory.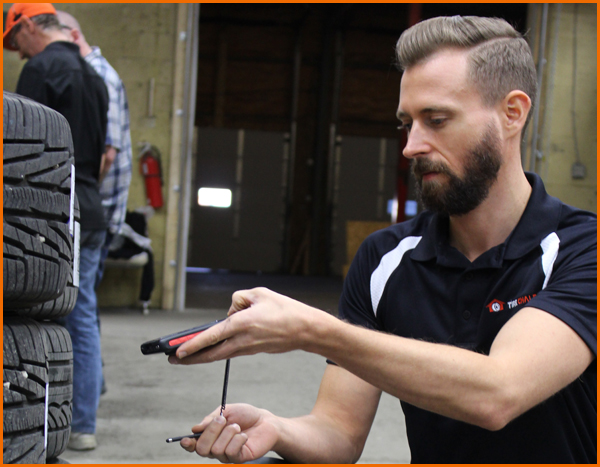 Step 4: Our team will transport them to our secure warehouse, wash them, and store them as a set.
Step 5: Our warehouse team does a full "Tire Report". We'll prepare a report about current tread wear, tread depth, and any air leakage points.
Step 6: When the customer wants their tires switched at the end of the season, our team will transport the set back to your service bay when you're ready for them. The customer will be pleased that their tires were washed, cleaned, and assessed. You'll also look fantastic to the customer when you inform them of anything that came up on their tire report, helping you to continue to offer the level of service that keeps customers coming back for more!
Best in Class Software
Tire Chalet's software is truly unique and amazing! Our software can be integrated with your DMS so that it reads your operation codes and reports to us any appointments scheduled for tire storage pickup or delivery. Simply go on with your day as usual booking appointments, including tire storage appointments in your DMS. Then at the end of the day, or whenever you like, you just simply need to make an upload and your tires will be delivered or picked up the next day. Not having to manually requesting every delivery and pickup will save you a great deal of valuable time in the height of tire season. Valuable time which your staff can now be using to do their jobs, make sales, and serve customers. Or if you like, you can still login to our web-based inventory management system and manually request a pickup or delivery. Additionally, you can use our online inventory management system anytime to manage your account. Our comprehensive software system documents important information on your customers. It is easy to use, efficient and organized. Storing data on everything from appointments, to the condition of wheels, including tread depth and the rim's condition. You will also have the ability to see which of your customers have yet to switch their seasonal tires over, so that you can contact them to make an appointment.
Cataloguing inventory
When picking up your customers tires we use state-of-the-art bar coding and handheld devices to insure accurate, organized storage of all of your inventory. We also photograph all of the tires to document their condition to ensure that your tires are returned in the same condition as they were when they were picked up. All of this is done before leaving your establishment and it is all uploaded to your account for you.
Tire report
Before storing your tires for the season we also perform a detailed inspection of each wheel and document it for you. We measure the tread depth, wear, the condition of the rims and note if the tire has any damage to it. All this information is made available to you on your account. All of this information can be used for you to make expert recommendations to your customers.
Contact Your Local Tire Chalet Location Today